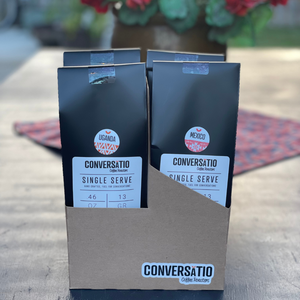 Single Serve Gift Pack
Sale price Price $58.00 Regular price
Give a gift of 4 bags of single serve pour over filters.  
Portable . Easy . Delicious
Perfect for traveling, camping, and when you need just one cup.  
Available in medium or dark roasts.  Each Gift Pack will receive a variety of the roast category you choose.  (Varieties may or may not be pictured!)  
Each bag contains 10 pour over filters with our most popular roasts that are ground and ready to serve. All you need is hot water (185-195 degrees) and a cup! 
Each filter is sealed, just tear along the dotted line, extend the flaps and firmly hang on your cup. Cover the coffee with just enough hot water and let it 'bloom' - an industry term that means to allow the coffee grounds to absorb the water. Gently finish pouring 10-12 ounces of hot water over the grounds. Remove the filter and enjoy! (Adjust the amount of water to suit your taste). 
How to Brew Single Serve Pour Overs

Ground coffee in single serve filters.
**Perfect for stocking stuffers, host gifts, and gifts of appreciation.